With its stature as the hometown of the University Florida, Gainesville is rife with cultural, historical, entertainment and educational landmarks. And let's not even get into all the recreational opportunities and natural beauty surrounding this north central Florida city. Thanks to such riches, each Gainesville venue offers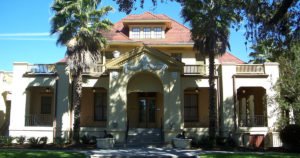 experiences sure to delight at least one member of your household, and that's true of the Thomas Center.
Now owned by the City of Gainesville, the Thomas Center is a thriving cultural site. The center got its beginnings as a private home in 1910. It transitioned into a hotel in 1928, remaining so for several decades, then provided additional educational space for Santa Fe College until the city acquired it in 1974.
Today, the Thomas Center is a public resource offering art exhibits. concerts, meeting spaces, and annual community events, as well as gardens to roam year-round. It hosts many a wedding and offers active volunteer programs for those who are interested.
Come see why the Thomas Center is worth exploring.
Entertain yourself
The Thomas Center's tagline is "the cultural heart" of the region, and with good reason. It's located in the city's historic Duckpond neighborhood, where homes blend with ancient oaks, scrollable streets and beautiful gardens.
The heart of the Thomas Center is the early 20th-century Mediterranean Revival home once known as "Sunkist Villa." It housed Major William Reuben Thomas, wife Kathryn and their five children before the family added a three-level wing and turned the property into a hotel.
Several period rooms have been restored to their 1920s appearance and are open for viewing. The once-hotel also serves up meeting, conference, exhibit and event spaces.
The Spanish Courtyard hosts the popular "Jewel Box Concerts," where musical and other artists perform in a more personal setting. You can even bring your own beer and wine to these events.
Also popular is the family-friendly "Jest Fest," which features a free carnival-like experience. Patrons can enjoy pony rides, clowns and tightrope artists, among others, then settle down and with a bite to eat from a food station.
And don't miss the annual Holiday Tree Lighting each December. Santa Claus doesn't!
Enjoy the gardens
They're magnificent in a calming, evocative manner.
Massive oaks, flowering trees and seasonal stalwarts such as roses and lilies anchor peaceful paths that lead to benches and exterior artwork. Look for the tortoise fountain and landscaped courtyards near Thomas Center buildings.
Enjoy an art gallery or two
Art is everywhere here, but especially in the Thomas Center Gallery and the Doris Bardon Gallery. Both feature serious, juried work from esteemed local, national and international artists, but also prioritize exhibits from local artists or those with ties to the Gainesville region.
The Thomas Center Gallery is housed in what was the Thomas' family's kitchen and is an interior, intimate space. The Doris Bardon Gallery is on the second floor of the Thomas Center, under the airy glass enclosure of the Spanish Courtyard.
Ready for your Oakmont lifestyle? Talk to us here.